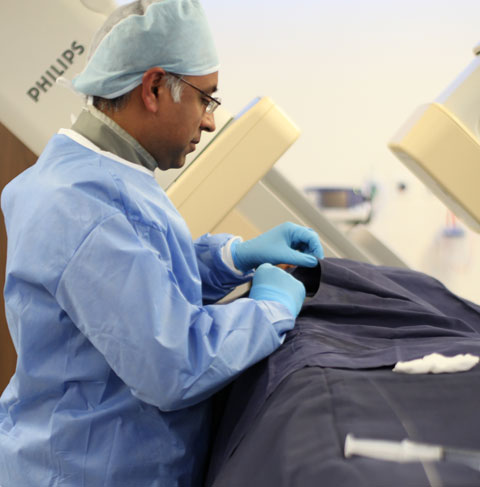 A coronary angiogram is a test which allows your cardiologist to visualize the coronary arteries. The coronary arteries supply the heart muscle with blood and oxygen. The procedure can be done from the wrist (radial artery) or the leg (femoral artery).
In the Catheterization Laboratory, the cardiologist places a local anaesthetic at the puncture site. When the artery is completely frozen and anaesthetised, a tiny plastic tube is inserted into the artery. The procedure is performed through this 'gateway'. Specially shaped plastic pipes (catheters) allow the mouth of the coronary arteries to be engaged. A radio-opaque dye (usually iodine-based) is injected through the tube and X-ray pictures are taken. This allows the cardiologist to see any narrowings or blockages and can also give information about the blood pressure inside the heart and how well the heart is pumping. During an angiogram, patients are continually linked to a heart monitor (ECG) that shows the heart rate, rhythm and blood pressure.
The procedure usually takes 10-20 minutes. An coronary angiogram requires you to be fasted for at least 6 hours and can be done as a day case procedure.