MEDBULLETIN
NOVEMBER 2022
Quiz:
A 33 year old gentleman was diagnosed with a cardiac murmur soon after birth. He was lost to follow up. A recent physical examination as part of a pre-immigration medical clearance detected a murmur which led to his referral to our clinic. He was asymptomatic, NHYA –I, and had no clinical signs of congenital heart disease. The murmur was very loud, pan-radiating and heard most at the lower left sternal edge with a palpable thrill. Refer to the apical 5-chamber view on the transthoracic echocardiogram.
What is the diagnosis?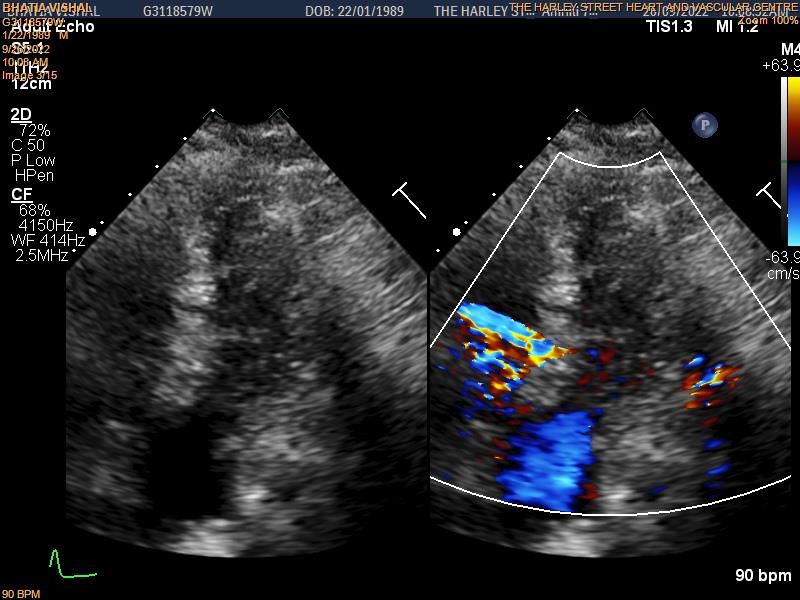 Answer:
The echocardiogram with colour flow Doppler confirms the presence of a muscular ventricular septal defect (VSD), with a left to right shunt. The calculated Qp/Qs was 1:1.5 with the image below confirming an enlarged right ventricle. His pulmonary artery pressure was elevated, 54 mmHg. The clinical course and prognosis of isolated VSDs depend on the type, size of the defect, and associated hemodynamic abnormalities. Our patient is at risk for development of progressive pulmonary vascular disease, which may lead to irreversible severe pulmonary hypertension with shunt reversal and subsequent cyanosis (Eisenmenger complex), HF, endocarditis and arrhythmias. He was referred to an adult congenital heart disease unit for confirmation and to guide the choice of intervention (surgical or percutaneous repair).