MEDBULLETIN
SEPTEMBER 2018
Vascular Quiz
Please see the clinical picture below and answer the questions that follow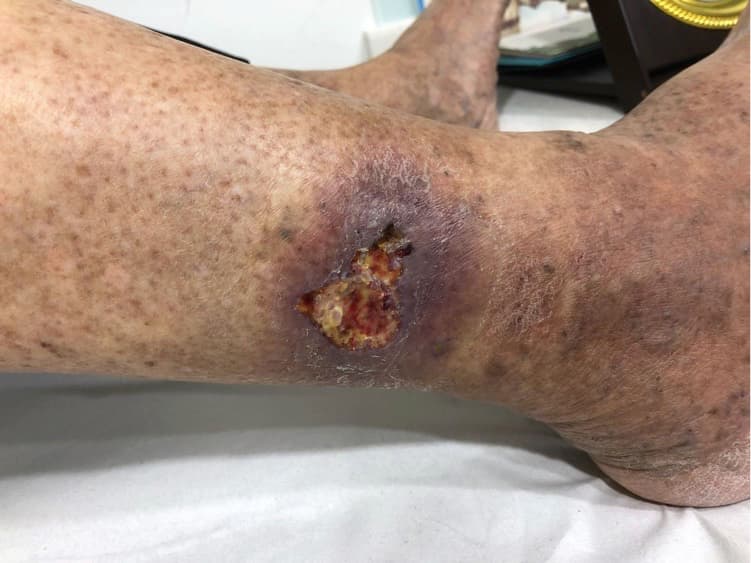 What is the likely cause of this ulcer?
What non-invasive test would be needed to confirm this as the cause?
What non-interventional treatment would be appropriate to heal this ulcer?
Is there a role for surgical or minimally invasive intervention to assist in the healing of this ulcer?
Answers
This a typical venous ulcer – it is shallow, peri-malleolar in location and has surrounding hyperpigmentation typical of venous stasis. The cause is venous hypertension secondary to venous valvular incompetence or varicose veins. As this ulcer is over the lateral malleolus, this is likely to be in the Short Saphenous Vein
A Duplex ultrasound of the veins of the leg will confirm the incompetent venous segments
Dedicated compression bandaging either as a 4 layer or a 2 layer compression bandage will be appropriate. As this patient was diabetic, a modified 2 layer was used to provide a lesser degree of compression taking into account co-existing arterial disease
Yes. The recently published EVRA trial (NEJM, April 2018) showed clearly that concurrent endovenous ablation (we used Venous glue ablation in this case) reduced the time to healing and reduced ulcer recurrence rates.